Here is Keanu Reeves in a Corn Flakes commercial.
"I have never been sexually aroused by a man. But I have yet to kiss Johnny Depp, so you never know. " - Dave Navarro

(Photo courtesy: Undercover.com)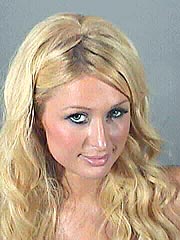 I found a picture of Paris Hilton's booking photo. Does this girl think that she can be just pussy footing around in jail? She will be serving at least 23 days of her sentence for voilating probation. It will be interesting to see how these 23 days play out for her. (Photo and source courtesy: People.com)


Feel free to take this clip for site by pressing mash.


Hell's Kitchen starts tonight. As I have written before I love this show. Gordon Ramsay just does something for me. In the meantime enjoy a couple of Season 2 highlites.