Lauren Conrad's life has been heating up...who do you think she should trust???

Photo
Ellen DeGeneres is in a lot of hot water over the decision she has made not to strike. HollyScoop.com took it to the streets yesterday and asked the stars how they felt about Ellen sticking to what she believes....the answers may surprise you!!


What is Isla Fisher's secret to weight loss?? She just had a baby three weeks ago and she is looking so amazing....she needs to call me!!

Photo

These pictures have just been released from Vanity Fair. I can't get over how amazing Hayden Panettiere looks.
Christina Aguilera helped Rock the Vote....you better go and vote...Christina says so!!!

Photo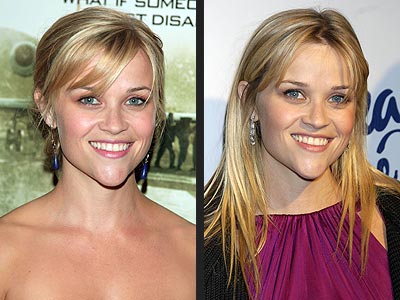 Reese Witherspoon has an awesome look...which does she look better with? Her hair up or her hair down?

Photo

It must be nice to be Lindsay Lohan...now that she is sober she can afford to buy the rich things in life. Like a Chanel purse....

Photos
Kelly Ripa looks amazing on the cover of Fitness. They even left her outie showing. How cute!!

Here is what she had to say in the interview...

oh you're so vain
"a month or two after i started working out, i wore a sleeveless turtleneck to work. regis was like, 'pipa, your arm muscles look incredible!' it was the first time anybody had ever said anything to me about my muscles. and because i am a vain person, that's all i needed to hear to stay with it."

on starting her fitness regime
"i figured, i work in an industry where there's a stylist and a makeup artist—they'll make me look fine but i began feeling tired-just playing in the park with my kids wore me down…so i started walking on a treadmill. then i started jogging on a treadmill. then i began jogging outside. now i'm running outside, three to five miles, and taking toning classes.

on her best confidence-boosting trick
"i buy jeans that are tight in the rear end. i'm not kidding. i treat my cheeks like breasts in a push-up bra. i just reach down in there, lift them up and push them together. and they'll stay put if the jeans are tight enough in the seat."

on regrets
"i used to smoke, so lung cancer is the thing that keeps me awake at night. i worry, did i quit in enough time? did i do it for too long? it's one of those things where i think, boy, what a foolish thing i did. i'm not from the generation where you can go, 'oh, i didn't know it was bad for me.' no. everybody knew it was bad."

on charity
"regis's heart scare was a reminder to stay on top of the issue. as women, we're more interested in stuff that affects us immediately rather than thinking long-term. i also support the heart for women act, which asks the government for funding for women and heart disease awareness."

on marriage and pregnancy weight
"when i was pregnant with my first son and i gained 68 pounds, mark made me feel like the queen of sheba every day – 'you're so beautiful, you're so gorgeous.'... at this point, we've been married too long for him to say, 'oh, you look so hot in that!'"

She sure looks amazing for having three kids...I only hope I will look that good in 5 years!!

Photo and Source
It was her inhaler y'all!! Britney Spears is blaming her inhaler on the failed drug test! The Superficial is reporting that...Britney Spears' people have found a new excuse for her botched drug test after the Provigil claim was debunked. They're blaming her inhaler which is also a highly unlikely cause.

TMZ reports:"Now the same source says the drug that showed up may have been Albuterol, an asthma drug. But, again, we checked and Albuterol is not an amphetamine, and the class of drug that showed up on the test was an amphetamine."



What's next??? Her big toe?? Her dogs breath??? Who knows with this girl!
Yesterday I reported that Jake Gyllenhaal and Reese Witherspoon went on a Napa Valley weekend visit. Here are the exclusive pictures from Us Weekly of that weekend.

On November 10, Gyllenhaal and Witherspoon checked in to a private house with a rooftop jacuzzi at the exclusive Carneros Inn. Over the weekend, they relaxed and enjoyed each other's company, taking in a couple's massage, dinner, and a laid-back morning picnic.

"They looked like they didn't have a care in the world," a witness tells Us, adding that after Jake gave her a kiss, "Reese looked like she was in heaven!"

Photo and Source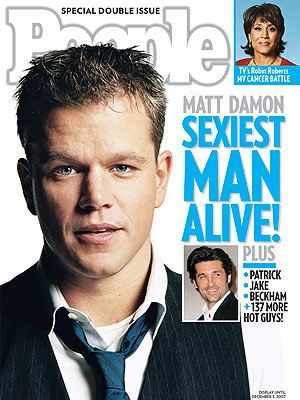 Matt Damon is the Sexiest Man Alive??? WHAT??? I don't know if I like that decision or not!! I really think he is too shy for the crown. But he can also have his own time to shine since he finally has made a name for himself. (I thought he was super sexy in School Ties...anyone else remember that movie?? One of my favorites!)

Other guys that made the list are Will Smith, Patrick Dempsey and Justin Timberlake.

Photos