I can't believe how many sexy men there have been....enjoy and then tell me your favorite sexy man!!
Source
Kelly Ripa walks her kids home from school in New York yesterday. What is up with her baggy clothes?? She looks amazing otherwise!!

photo
People.com is reporting that Lindsay Lohan reported to the Lynwood jail on Thursday to serve her minimum 24-hour sentence as part of her plea deal in her two DUI cases – and checked out 84 minutes later.

According to the sheriff's department Web site, the actress turned herself in at 10:30 a.m., and was released at 11:54 a.m. The jail has a long-standing policy of releasing non-violent offenders early due to overcrowding.

Just Jared reported that Lauren Conrad has finally spoken out about The Hills being fake.

Lauren, 21, just released a statement defending the integrity of her MTV reality series, The Hills.

"There have been some rumors in the press about The Hills being fake," she says. "Many of you have been asking me if the rumors are true. There are false rumors every week about me and I can't address every rumor out there, but I feel like this was important for me to respond to. The show is not fake and this is really my life. I have addressed these rumors in an interview with InTouch Magazine's Nov.26th issue."

See I knew it wasn't fake!!!



Keri Russell likes to eat popcorn just like us!!!

E! Online is reporting that there is an arrest warrant out for Hayden Panettiere's arrest in Japan.

Her heroic dolphin-saving mission last month wasn't without its consequences.

"I learned that they have an arrest warrant out for me in Japan," the Heroes star told E! News exclusively Wednesday. "We just found out."

Panettiere, 18, was part of a convoy of activists from the U.S. and Australia who on Oct. 30 paddled out on surfboards to protest the annual slaughter of dolphins and whales by Japanese fisherman.

Her group attempted to reach a pod of dolphins before it was driven into a nearby cove and massacred, but they were blocked by a fishing boat before they could reach the sea creatures.

Now it looks like the scare's not quite over for the actress.

When asked what the arrest warrant could mean, Panettiere replied, "Potentially jail, but I doubt it."

She said she was thrilled that the incident was receiving international attention, as it could result in educating others about the dolphins' plight.

"In this town, you tend to be able to get publicity when you're not wearing underwear or [you're] in rehab," Panettiere said.

"I was very excited that people were interested in what we did."

And the actress isn't letting a little thing like a warrant keep her from her cause. "I'd do it again," she said. "Very possibly, might do it again."

In this world of Britney Spears and Lindsay Lohan's I am so happy to see a star doing something for good in this world. I hope she doesn't get arrested!!!

Photo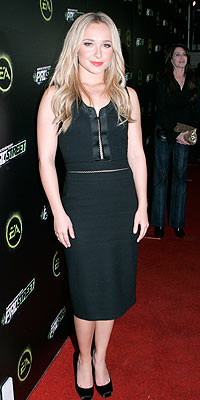 Hayden Panettiere wore this outfit to the Need for Speed ProStreet party in Los Angeles. Do you think it's a hit or miss?

People.com is reporting that Milo Ventimiglia and Hayden Panettiere were together last night...at Wednesday's Race in the Fight Against Epilepsy fundraiser, in Calabasas, Calif.

When asked about the reports of romance, Ventimiglia, 30, chuckled then paused. After a few seconds, he answered, "She and I are close friends. It's only natural that people are going to couple us together."

The actor and Panettiere, 18, hung together outside the bash while awaiting their fellow Heroes costars. And although they spoke closely in a shadowy corner, they remained strictly hands-off. (Once inside, the two were ushered into a private VIP room.)

I am actually for this couple now...they are both amazing people...I hope that they are!!

Photos