Now I really like this version of Gimme More...Paul Oakenfold is awesome. I aspired to be like him when I was younger.
Access Hollywood is reporting that Katie Holmes, Queen Latifah and Diane Keaton will become scratchable on the California Lottery Scratcher ticket.

The trio will star in the lottery ticket to promote their new film, "Mad Money," about three female employees of the Federal Reserve who plot to steal money that is about to be destroyed.

"Mad Money" Scratchers will not only offer players the chance to win cash prizes ranging from $10 to $1,000, but will also offer a slew of exciting second chance prizes. These prizes include: a trip for two to the Los Angeles premiere of "Mad Money," a walk-on role in a movie, "Mad Money" DVDs, and autographed "Mad Money" posters.

"When people think of California, they think of Hollywood, which is why the California Lottery is thrilled to enter into a new partnership with friends in the movie industry, Overture Films," said Lottery Director Joan Borucki. "'Mad Money' is a great tie-in for our products!"

The "Mad Money" Scratchers will be available in late November. "Mad Money" opens in theaters on January 18, 2008.

Photo
Eric Dane looks really yummy here...but can someone tell me what's up with his hair...OMG!!!

Photo

Hayden Panettiere went out to the gym early this morning. She looks in high spirits even though it looks like the Heroes season will be ending next month because of the writers strike.

A new episode is on tonight...don't miss it!!

Photo and Source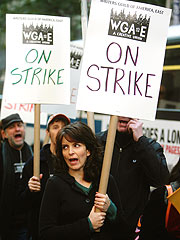 The writers have went on strike...now what does that mean to our TV watching. I know it's great to be so concerned about ourselves when there is a strike going on.

People.com
has just the answers for you...here's what might happen if the strike continues . . .
1.
Will your favorite shows be off the air?
Not immediately, though they may go into repeats a lot sooner than you would like. The Daily Show, for example, as well as the nightly talk shows with David Letterman and Jay Leno, will go into repeats beginning today, because they're all staffed with WGA writers. Other scripted shows, dramas like Grey's Anatomy and sitcoms like The Office, have stockpiled scripts in anticipation of the strike, and should have enough material to keep us in new episodes through January.
2.
Are shows like 24 and Lost in Jeopardy?
USA Today runs down the many other ways the one-day-old strike has already impacted the TV season, including the cancelation of NBC's planned Heroes spin-off, a possible postponement of the new season of 24 and a potentially shortened (to eight episodes!) season of Lost.
4.
Daytime soaps may be hard hit.
AOL TV has more scoop on how the strike will affect the rest of the TV season, including rumors that NBC will air the original British version of The Office during the strike and that daytime soaps could be among the hardest hit by the walkout.
5.
More reality TV?
And TV Guide has a network-by-network breakdown of what the strike means, and the bottom line is: Get used to lots more reality programming, especially if the strike drags on. If you're a fan of shows like Grey's, House and Desperate Housewives, in other words, the news ain't good. But if you've been waiting around for a new batch of Supernanny, rock on.
5.
No one knows how long the strike will last.
The last WGA strike, in 1988, lasted 22 weeks and cost the industry more than $500 million. So that's certainly incentive to settle it quickly. On the other hand, the two sides—the WGA and the Alliance of Motion Picture and Television Producers—are clearly pretty far apart on the issues, which mainly revolve around the writers' demands for a more equal share in the profits of TV shows from DVD and Internet sales. So, again, no one knows how long the strike will last.
I guess we will just have to hope for the best that this can be resolved because I am really loving this season of shows!


You would think that after Katie Holmes ran the New York Marathon her day would be done. But that isn't the case...she went to Tom Cruise's movie premiere, Lions for Lambs. What an amazing girl she is!!

Photos


Last night Target hosted the Express Yourself fundraiser. Lauren Conrad, among others were there.

Photos
Jessica Simpson was busy promoting her clothing line at Macy's. Heck if it will make me look this good sign ME up!!

TMZ.com is reporting that Britney Spears went to get lit! TMZ caught the popwreck going to Crystal Palace in the Valley yesterday, leaving her two kids in her car with the court-required monitor while she shopped for lighting. Hmm... part-time babysitter probably isn't part of the woman's job.

Cameras swarmed Brit as she made her way into the store, and she seemed fed up with some of the attention on her way out -- yelling at one photog for getting too close to her car. Wouldn't want another dent on that thing!

Wow...this isn't going to look good!!

Pictures


Enjoy this sneak peek of Victoria Beckham on the show Ugly Betty. She looks like she can actually hold her own!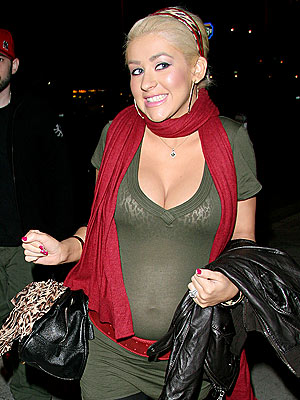 Now that the secret is out...it looks like Christina Aguilera has no problems showing off her growing belly to the world!

Photo