Christina Aguilera looks amazing...she has things spilling out though. You would think that she would be able to afford things that can hold those baby's in...but I bet Jordan Bratman is enjoying this stage of her pregnancy!!

Photos



Rihanna is featured on the cover of Britain's magazine YOU...inside she confesses some things...

Rihanna on working with Justin Timberlake: "I was so starstruck at being in the same room as him."

Rihanna on her good-girl-gone-bad image: "I felt I was embarking on a whole new image, a whole new journey. I wanted to differentiate myself from the past. I have come into my own and I know what I'm doing now. I've called the new album Good Girl Gone Bad because I was determined to do it my way, I was sick of listening to what everyone else wanted. This is the way I like to look and sound, so I became very rebellious – that's the attitude of the entire project. And some older people there, who tend to be very judgmental, are not pleased with my new image. But I'm not bad in a godless way"

Rihanna on drugs: ""I don't want those problems. Even they didn't want that to happen to them, and it's a very sad situation. Outside the business, it's easy to criticise them. It's not hard for that kind of problem to happen, but you have to have good people around you to make sure it doesn't. Artists work so hard and the people around them keep pushing, forgetting they're human. And in turn the artist also forgets she's human and stops caring – and that's when you get lonely. If you travel the world and start to zone out in your hotel room, you turn to different things for comfort"

Photos and Source
Now that Zac Efron has covered up his dreadful hair...he is starting to show us his underwear. Will someone help Zac dress!! He is starting to freak me out!

Photo


Here is the split screen version of Gimme More...the VMA performance and the proper choreography for it. It is quite amazing!!


Earlier I had pictures of Lindsay Lohan without pants and just a shirt, but in this clip she is wearing the pants...so what happened??? So what do you think?? Does it look like they are back together?

Source
OK! magazine is reporting exclusively that Victoria Beckham , already a mother of 3 boys, might be in the family way for a fourth time — and judging by her shopping habits, she might finally be having a girl!

Sources reveal to OK! that Posh popped into swanky L.A. baby store Petit Tresor, not once, but twice in the last week. Also, it appears the singer has been thinking pink, picking up both a Blankee brand blanket and a cashmere stuffed animal in that feminine hue.

When Posh returned with a friend to the Brentwood, Calif., boutique the following day, the source tells OK! she seemed to be gathering information for desigining a nursery for their new Southern California home.

So why would Victoria, who along with hubby David Beckham are the proud parents of Brooklyn, 8, Romeo, 5, and 2-year-old Cruz, be keeping so hush-hush about the good news? "The Spice Girls reunion tour is coming up," explains one music industry insider. "Everyone's seen how much guff Christina Aguilera and J.Lo both got for touring while obviously being pregnant. She's probably trying to avoid that if she can."

Calls for comment to Victoria's rep have not yet been returned
US magazine is reporting that Elisabeth Hasselbeck has named her son Taylor Thomas...what a cool name!!

She announced in a phone call to The View Monday.

She joked that she was in labor "forever ... at least four or five thousand hours!"

Hasselbeck, 30, and her husband Tim, an NFL quarterback, welcomed Taylor in Arizona Friday.

He weighed 7 pounds and 15 ounces.

She said the couple's daughter Grace, 2, "loves him."

She will return to the show January 6.

Here is the clip of her telling The View....


Online Videos by Veoh.com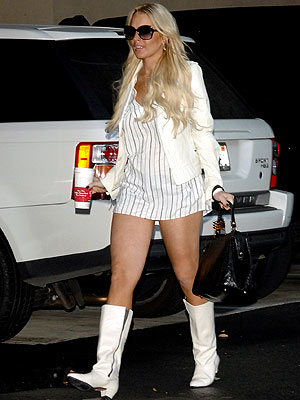 Did Lindsay Lohan forget something when she was getting dressed?? Like her pants??? May be that boyfriend of hers should tell her to get dressed next time.

Photo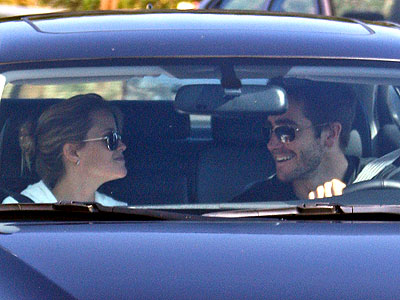 If this picture of Reese Witherspoon and Jake Gyllenhaal doesn't scream love at you, then I need to hit you with a stick...

How cute are these two???

Photo

Ryan Gosling turns 27 today!! WOWEE! He is from London, Ontario...which isn't far from where I grew up. (He also shares a birthday with my son, who is 5 today!!) Anyways, I remember Ryan best from the New Mickey Mouse Club. I thought he was one of the cutest kids back then. And now 12 years later I can drool all over him. I also loved him in The Notebook...he was an amazing actor there! Happy Birthday Ryan!