I just found these over at one of my friend's Gossip Girl Chat blog. I just loved them so much I had to share them!! If you want more gossip about Gossip Girl check her out...she has spoilers for next week!!!


I have been catching up on my TV watching...finally I got to watch Heroes. "Four Months Ago" ... it was amazing....and this is my new favorite season so far. Kristen Bell and Milo Ventimiglia have this chemistry. And I am sooooo jealous of Kristen!!


Adrian Pasdar loves to make these little home video's....and he likes to call Milo Ventimiglia "Mi"....that is soooooo cute. Anyways, this is the lastest of Adrian's video's featuring Hayden Panettiere and Milo Ventimiglia....

"MI" looks so cold....I could warm him up!! Sorry, did I say that out loud???

I thought I would shared these great Season 3 Promo Pics from Ghost Whisperer. Jennifer Love Hewitt is getting better and better. I am totally loving this season!!! It is scary scary scary!!



Photos and Source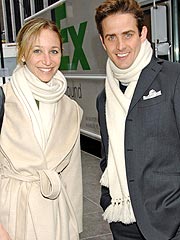 Joey McIntyre and his wife Barrett have named their son Griffin Thomas McIntyre, PEOPLE has confirmed.

"I'm just blessed, you know, absolutely blessed and, you know, life is the biggest blessing of all and you know there's no end to it. Being a dad, I can't wait," McIntyre, 34, said.

As for advice he and his wife, 29, are receiving, he added, "A lot of people just say, 'Listen, you know I could tell you a million different things, but you have to learn it on your own,' which makes a lot of sense."

One thing they did on their own was a travel-themed nursery for young Griffin – but not too over the top, he described.

"There's a picture of a plane, there's a picture of a train ... I like the sense of travel. ... I've had the fortune of traveling a lot, and then going around the world and learning different cultures and people, and I think if we all had the chance to do that, it would be a better world. So, I hope my son does that."

Photo and Source
Nicole Richie had to serve Thanksgiving lunch as a part of her community service. She looks really impressed in the middle one.


Because Britney Spears' is getting depressed without her boys she is planning to adopt Chinese twins.

According to reports from Britain's News Of The World newspaper, Britney, 25, has confided to pals that she's in the final stages of talks with an adoption agency and plans to go ahead with the adoption very soon.
Friends of the singer reckon that Britney has elected to adopt the two six-year-old children from China in a frantic bid to fill the void left by losing her sons to K-Fed.