ExtraTV.com is reporting that Kevin Federline's lawyer, Mark Vincent Kaplan, told "Extra" that he's doing everything possible to make the holidays as normal as possible for the kids despite their parents' bitter court battle.

"Kevin would like the children to be able to experience Christmas, Christmas Eve, Christmas Day with both himself, as well as their mom, and arrangements have been made for a schedule we believe will accommodate them," said Kaplan.

I am a child that went through the Christmas half days with my mom and dad. Let's hope that doesn't happen for the children's sake!! I hated it!

Who do you think they should spend Christmas with? Kevin or Britney?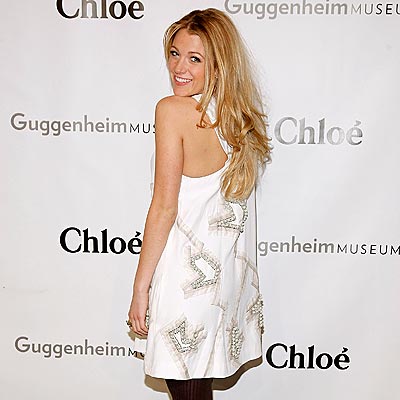 Blake Lively strikes a pose at the Guggenheim Museum where she was at the Young Collectors Council Art Show. Decked out in Chloé, the Gossip Girl star told PEOPLE of her look, "They sent over a few dresses and this was my favorite."

Photo and Source
It really must suck to walk through a snow storm like that!! Jennifer Garner has got it made!

Photo
Chace Crawford handed out toys with a cow at Toys R Us yesterday. He looks moooovalous....sorry can't spell!!

Photo
The aspiring pop singer's new single, "Touch Me," was "leaked" on Thursday to Perez Hilton. Take a listen and judge for yourself!


"You've never seen me. I look fantastic." – George Clooney, joking about getting out of a car like a Hollywood starlet (without wearing underwear)

(Man, now that is something I would like to see!!)

Catch more celebrity quotes at my other blog! Taylor's Celebrity Quotes!!

Photo and Source