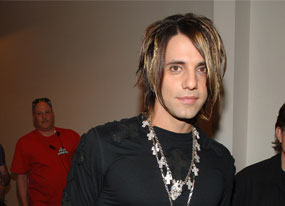 The other night Britney Spears was supposed to show up at LAX nightclub for an appearance.

Spears partied in the VIP area with illusionist Criss Angel.

E! online says Spears and Angel were looking quite cozy during the evening. While he has insisted they're just friends and that Spears asked him to help with her maybe-performance at MTV's Video Music Awards on Sept. 9 in Vegas, a source reports that the two were spotted after LAX at a local McDonald's, holding hands and sharing a couple of smooches.

Spears and Angel are said to have stopped by after-hours club Noir Bar.

Okay, Criss...you know I love you but what the heck are you doing?? I know that you can do better than that! What about me? Come and kiss me!!!
0 comments: