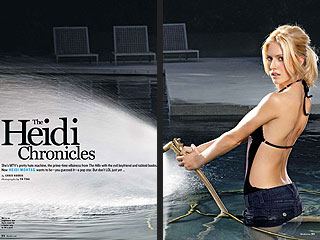 People.com is reporting that Heidi Montag who is in Blender magazine's new feature on aspiring pop star Heidi, who says the person we know as Heidi on The Hills is just a character she plays. Huh?!

Says Ms. Montag of life on reality TV, "I'm just glad I don't have to deal with all the drama. I mean, it's fun to watch, but I'm glad it's not my life. I'm actually a drama-free person."

Among other choice tidbits from Lauren's former BFF, who, of course, was accompanied by her ever-present bore-friend Spencer Pratt:

On the gigantic (and rumored to be fake) engagement ring fiancé Pratt gave her: "It's at home," Montag told the interviewer. "I take it off at night because it's big and I don't want it getting caught in my hair or scratching my face, and I didn't have time to put it on today."

On her career plans: "I've always been singing. I've been dancing since I was 2—hip-hop, jazz, tap, everything. I was a wicked stepsister in Cinderella. I was a fairy in A Midsummer Night's Dream. I was Beatrice in . . . an old English play. Acting, singing, dancing —it's always been in me."

On how, in addition to her music ambitions, she's also planning on becoming an award-winning actress: "I also plan to win an Oscar," she says. "I'm very ambitious."

On how she's not a brainless shopaholic: "I like to read a couple books at once. I was reading the Princess Diana book. I'm reading a book about Chicago and the mob. Right now I'm also reading the Bible, beginning to end. I'm very religious. That's how I've gotten to where I am."

Wow, this definitely isn't the Heidi we know from The Hills, is it?

Am I the only one that is confused???




1 comments: